It's been a very busy few days, reporting on the Test match at the WACA. My reports have been going up on cricinfo (day four's report is
here
) and I've also been doing a
daily piece
for All Out Cricket.
Suffice it to say that this has been some of the most exciting Test cricket I've ever seen, and it's been a real privilege to be in Australia watching and reporting on it. I'm so glad I came.
One exciting thing which did happen during the Test was being interviewed during the day three lunch break, on ABC radio. This was arranged at the last minute, and I spent the hour beforehand getting gradually more and more nervous about it (my first live radio interview, back in the UK a long time ago, was a terrifying experience). I had no idea what I was going to be asked. In the end, though, it was fine – so much so that I almost forgot I was on air for some of the time and just chatted like we were having a normal conversation. We talked a bit about the first ever women's Test in 1934 at Brisbane, and also about the contemporary women's game in England, and what the best way to increase the profile of the sport might be. And then there was the compulsory gloating section of the interview which involved talking about the men's Ashes, and precisely how miserable it has been to be a cricket fan in the UK this winter ;-) I repeated a comment which my mum made recently, about Alastair Cook not knowing the damage his team had done to family life across England during this series!
He also asked me what I made of Perth. Basically, I loved every minute I spent there. The one negative so far has been getting covered in mozzie bites on the first evening of the Test, when we rushed down at close of play to get quotes from two of the players and I didn't even think to put on insect repellent. I have since rectified that, and the bites are getting better. I'm not sure if this was due to rubbing banana skin on them, a herbal remedy which I decided to try on Monday, but it certainly seemed to help!
My last day in Perth (Amy flew to Brisbane on Tuesday morning) was lots of fun. I caught a ferry over to Fremantle, across the Swan River from Perth, with glorious views on either side as we travelled along in the sunshine (it takes about an hour and 15 minutes each way to get there). There are hundreds of mansions lining the edges of the river, many with private beaches attached; it must be amazing to live in one. We were also given some fun facts about Perth en route, such as: it is the most isolated capital city in the world.
As we docked at Fremantle, all I could think about was that this was where, in December 1934, the first ever English women cricketers had docked on arrival in Australia. The account from Myrtle Maclagan's diary is as follows:
"We were driven straight from the decks to the Town Hall at Fremantle where...eight score or so of the interested inhabitants of the place sat below and gaped up at us. The Mayor and some of his colleagues welcomed us officially and told us they hoped we would play the game in the same old way and that the better side would win."
Here I was, all these years later, right in the same place they had started out their Australian adventure. It was poignant moment for me.
I had about three hours in Fremantle before the return ferry, so I wandered around for a while. It didn't take me long to fall in love with the place. The only word for it, really, is "cute".
One place which is far from cute, though, is Fremantle Prison, which is a world heritage sight. It was built by convict labour in the 1850s, constructed from limestone which was quarried on sight, then after penal transportation to Australia ended in 1868 it became a maximum-security prison. What I didn't realise until I arrived is that it only closed in 1991. In fact, what really stood out to me while taking the tour was the continuity between the convict experience and the experiences of those who were there just a few decades ago.
For example, we were shown a metal bucket, kept in the cells, which remained the toilet for prisoners right up until the 1980s. (They briefly introduced chemical toilets in the 1960s, but the prisoners kept drinking the chemicals to get high.) Many of the punishments – flogging, solitary confinement in tiny dark cells – remained in place until incredibly recently. And we also saw the gallows, the same gallows which were used throughout the prison's history, right up until the death penalty was abolished in Australia in 1967. Apparently conditions remained so horrible, with the system still modelled on the British Victorian penal system, that the prisoners famously rioted in 1988, taking several guards hostage and setting a section of the prison on fire. This was, largely, the catalyst for its closure a few years later.
The creepy thing is that the tour guide said that she often has ex-prisoners come back to do the tour; and that the prison's chapel, which is still a functioning place of worship, often plays host to the weddings of ex-prisoners. Bizarre really.
I was so absorbed in the tour that when it ended, I had to peg it all the way back to the ferry, and only just made it.
Back in Perth, having checked in to my hostel, I wandered out into Northbridge, which is where a lot of the good bars and restaurants are. I found somewhere called the Brass Monkey, with live music playing, and ordered food. This was my first time wandering into an Aussie bar on my own, so I was trying hard to look casual and relaxed, and picked up one of the free magazines lying around to have a flick through before my food arrived. I suddenly realised that the one I'd chosen – entitled "Out in Perth" - didn't have the innocent meaning I'd assumed for it, but was in fact a gay magazine. Unbeknownst to me, I'd just announced myself to the whole bar as a lesbian without intending to.
I ate quickly, and left.
My only sadness on leaving Perth is that I never made it up the hill to Kings Park (I did see some of it from the ferry though). There is always sadness in leaving somewhere, especially a city I have so enjoyed, but hopefully I will make it back to Australia, and Perth, at some point.
I caught the bus to Perth airport from the city, which was an interesting journey, riding through a couple of suburbs, with the main thought in my mind being (sorry to revert to British stereotypes): "it's just like Neighbours!" I think it's the rows of bungalows, the wide cul-de-sacs, and the red slate roofs, all of which are very distinctly Australian.
The flight to Melbourne was interesting. I lucked out with a window seat, and as we took off over Perth, you could see vast expanses of open space, the like of which you will never see in the UK.
Oh: and I rewatched Blue Jasmine. It's actually really good! I must've just been knackered on the flight out here.
As we landed in Melbourne, there was a storm taking place, and every few minutes there were huge flashes of forked lightening, which was a bit scary, to be honest. I'm getting better at flying by myself though!
I caught a shuttle bus from the airport to Southern Cross station, then a taxi to my Melbourne hostel. I learned a valuable lesson when I arrived at 1am: don't arrive at a shared room in the middle of the night. Everyone else was in bed asleep, so I had to shove my bag in a corner and make my bed in the dark, while trying not to wake anyone. The main problem with this place (which is actually very nice otherwise) is that there is NO air-conditioning. This coincides with the ridiculous heat-wave taking place in Melbourne (44 degrees at the moment, and horribly humid to go along with it), which has made sleeping for the last two nights in a room with 11 other people almost impossible. I think that was my lowest moment of the trip so far. Fortunately, temperatures are due to come down this afternoon.
Yesterday was the nicest day. I caught a train out to the suburbs to meet the wonderful
Mel Farrell
. She drove us to a beach about 90 minutes away, called Torquay (no Basil Fawlty in sight though). My first sight of an Aussie beach, and it really was beautiful.
Very different from Pembrokeshire, with the palm trees and greenery lining the shore.
We had the best, chilled-out afternoon, away from the heat of the city, and went swimming in the calm turquoise ocean. (Don't worry, I made sure to apply huge amounts of sun cream before and after!)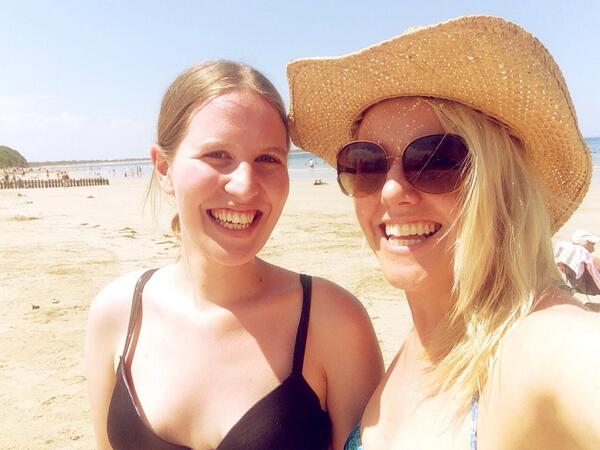 And then, another new experience: my first ever taste of oysters. These ones came with bacon, and they tasted exquisite. It's official – I'm an oyster convert!
Looking forward to getting stuck in to some serious city sightseeing for the rest of the day, before more journalism at the weekend.